Fall is right around the corner and football teams and bands will soon be taking the practice fields. They'll hone the fundamentals, learn the play book, and put the halftime show on the field. Along with the fun and excitement of beginning the new season comes hot weather outdoor practices.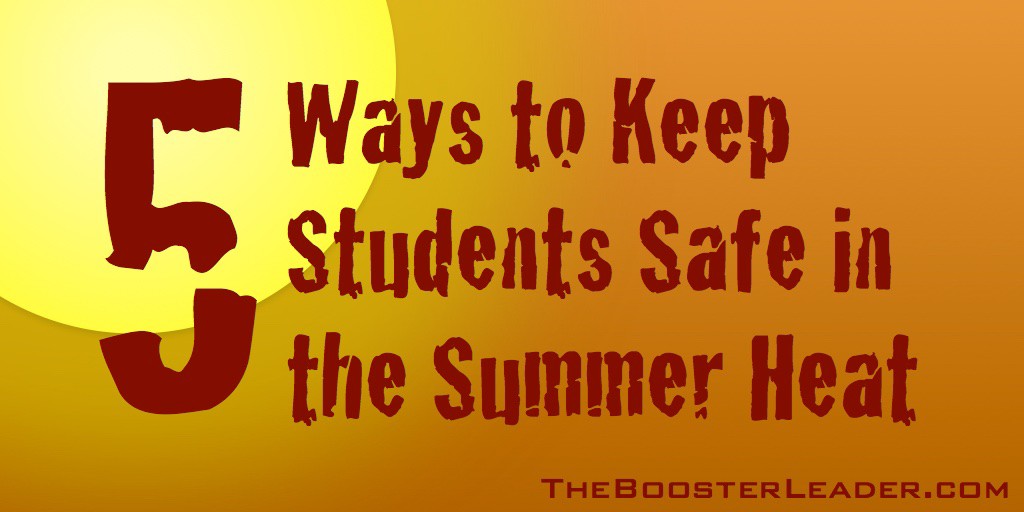 Booster clubs play a vital role keeping everyone safe during summer practices. Here are five ways booster clubs can help instructors – coaches, band directors, and staff – keep students and volunteers safe in the summer heat.
1. Provide facilities and supplies to protect against the heat. Raise a few tents to create a safe shelter from the hot sun. Set up outdoor folding chairs, and bring in fans to circulate the air.
You'll need to have plenty of ice on hand, so I recommend renting an industrial freezer and having an ice company stock it every day. Keep everyone hydrated with sports drink. You can save a few bucks by buying bulk powdered mix instead of individual bottles.
Buy some plastic buckets and soak towels on ice. Iced towels will quickly cool someone who is overheated.
2. Recruit plenty of volunteers. Be sure to have plenty of volunteers on hand to set up, serve drinks, and assist those who need help. It takes a lot of adults to oversee the students' activities, and your instructor cannot do it all.
It's important to be attentive to the needs of your volunteers. Remember, they're out in the heat as well as the students. For example, ice is very heavy, so design your shelter area to minimize heavy lifting.
3. Know your school system's heat policy. Most school systems have established heat policies for outdoor activities and practices. In the state of Tennessee, schools are prohibited from practicing or competing when the heat index at the location of the activity is in excess of 104 degrees. Your volunteers can assist the instructor by monitoring outdoor conditions.
4. Know the early warning signs. Volunteers should be familiar with the early warning signs of dehydration, heat exhaustion, and heat stroke. The American Red Cross and BandDirector.com describe in detail the warning signs and methods of treatment for these conditions.
5. Be prepared. Ask your volunteers to download the American Red Cross's free Emergency App to their smartphones. It's available for iOS and Android phones. Additionally, know emergency numbers in case you need professional assistance.
With proper planning and financial & volunteer support, booster clubs can help instructors keep everyone safe during summer practices. And, when booster clubs keep students safe, the students can focus on being the very best at their extracurricular activities.
The Booster Leader
If you are interested in supporting your child's booster club, you'll need a resource to guide you along the way. My book, The Booster Leader, 35 Leadership Essentials for a Thriving Booster Organization, is just that resource. The Booster Leader consists of…
Thirty-five proven leadership essentials that are quick and easy to implement
Eighteen inspirational stories that bring the leadership essentials to life
A twenty-nine point checklist to help you identify risks that may jeopardize your organization if not properly addressed (and the answers to help you resolve every issue!)
Now is the time to start leading your own thriving booster organization. In The Booster Leader, I show you exactly how to do it!
Question: How does your booster club keep everyone safe during summer practices? You can leave a comment by clicking here.