Are you overwhelmed at the thought of chaperoning your child's school trip? Seriously, being cooped up with with fifty rowdy teenagers can take its toll on one's sanity.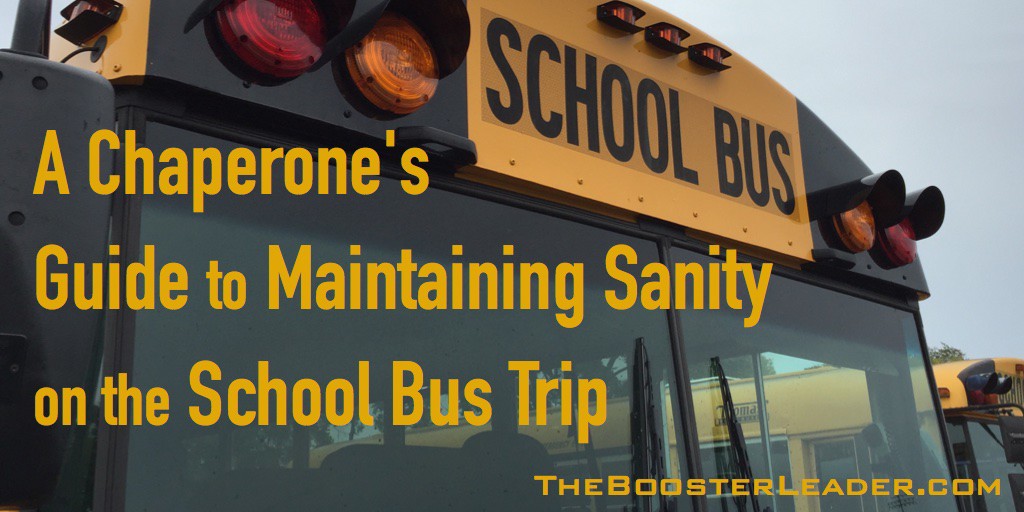 Well, chaperones, help is here. These five tips will help you maintain order – and your own sanity – on your school's bus trip.
Bus Etiquette
1. Take roll on the bus after each and every stop. If you have assigned a chaperone to serve as bus captain, she will take roll for the entire bus. Never depart from a stop without taking roll. Rarely will a student intentionally leave the group, but someone may linger around and lose track of time.
2. Do not arbitrarily exchange seats. When students move to different seats, it can set off a domino effect. If your buses are full, there is no tolerance for random movement – someone will always be displaced. You may, however, allow students to make one for one swaps; just be sure that both parties agree to the swap beforehand.
3. Keep the buses clean. The bus is your primary living space on the road. At every stop, remind students to throw away their trash. It is amazing how fast candy wrappers and drink bottles accumulate.
4. Maintain an appropriate noise level. It is unreasonable to expect a group of teenagers to be quiet as church mice. However, help them maintain an appropriate noise level and not disturb the bus driver and other students.
5. Monitor "couples" activities. Remember, school rules apply while away. I have seen some couples who continually push the boundaries, running through the disciplinary steps to the point of being separated on different buses.
Remember, chaperones serve to help instructors, but not to replace their authority. Instructors bear the overall responsibility for the group, and carry out discipline when necessary. To learn more about the chaperone's role and responsibilities, check out my post, A Chaperone's Ten Primary Responsibilities.
The Booster Leader
As a leader in your child's booster club, you need a resource to guide you along the way. My book, The Booster Leader, 35 Leadership Essentials for a Thriving Booster Organization, is just that resource. The Booster Leader consists of…
Thirty-five proven leadership essentials that are quick and easy to implement
Eighteen inspirational stories that bring the leadership essentials to life
A twenty-nine point checklist to help you identify risks that may jeopardize your organization if not properly addressed (and the answers to help you resolve every issue!)
A bonus section, Travel & Chaperone – all the info you need to sponsor, schedule, and chaperone a fun-filled trip that your students will cherish for a lifetime.
Now is the time to start leading your own thriving booster organization. In The Booster Leader, I show you exactly how to do it!
Question: How do your chaperone's maintain order on bus trips? You can leave a comment by clicking here.