Are you anxious because you've volunteered to chaperone your child's school event? Are you wondering just what you've gotten yourself into?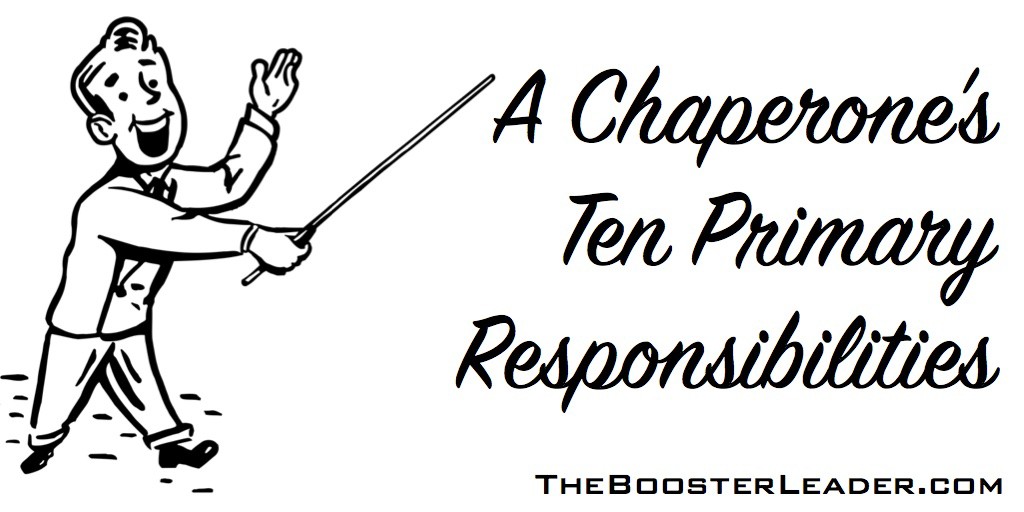 Well, rest assured, you'll get through this. Today we're going to look at the role of the chaperone. Once you understand these ten responsibilities, you'll be ready to lead with confidence.
1. Ensure the students' safety and health. This is priority number one. Make it your goal to return everyone home safe and as healthy as when they left.
2. Assist the instructors. Instructors represent the school system and bear the overall responsibility for the group. However, with a large group there is no way that one or two instructors can be at all places at all times. Chaperones are there to help fill the gap and to be attentive and responsive to the instructors' needs.
3. Communicate instructions to students. Clear communication is a necessity when moving a large group. When you are traveling, there are many instructions to share. Teenagers don't always immediately absorb what they are told, so the chaperone plays a critical role making sure everyone knows and understands what is expected.
4. Keep activities moving according to schedule. Student trips are packed with activities and move along at a very fast pace. And, with teenagers you really don't want a lot of idle time. Chaperones help to get everyone where they should be, when they should be.
5. Hold and dispense students' approved medications. School rules typically prevent minors from carrying their own prescription medications. Chaperones hold and dispense medications, at the appointed times, to their students.
6. Serve as a parental figure. Teenagers typically jump at the opportunity for independence from their parents. However, whether they admit it or not, most appreciate the "safety net" of a chaperone for occasional parental advice.
7. Serve as a point of contact for parents. A school trip is often one of the first times that children are away from their parents for any considerable length of time. It is reassuring for parents to know that they can contact their child's chaperone if necessary.
8. Lead by example. Whether you realize it or not, young eyes are on you at all times. Chaperones have the opportunity to teach the next generation by simply doing the right things, thus setting a good example.
9. Develop mentoring relationships with students. It is amazing how many students value time, attention, and conversation with adults. The generation gap is really not as broad as it may seem. Use this opportunity to make a difference in the lives of your assigned students.
10. Have fun. Chaperones pay their own way to participate in school trips, so help them have an enjoyable time. Chaperones often create friendships that last long after their children graduate from high school.
If you're still a little uneasy, remember you're not alone. Ask questions, and rely on the more seasoned chaperones to guide you along the way. Once you take that first step, you'll be well on your way to creating lifelong memories.
The Booster Leader
As a leader in your child's booster club, you need a resource to guide you along the way. My book, The Booster Leader, 35 Leadership Essentials for a Thriving Booster Organization, is just that resource. The Booster Leader consists of…
Thirty-five proven leadership essentials that are quick and easy to implement
Eighteen inspirational stories that bring the leadership essentials to life
A twenty-nine point checklist to help you identify risks that may jeopardize your organization if not properly addressed (and the answers to help you resolve every issue!)
A bonus section, Travel & Chaperone – all the info you need to sponsor, schedule, and chaperone a fun-filled trip that your students will cherish for a lifetime.
Now is the time to start leading your own thriving booster organization. In The Booster Leader, I show you exactly how to do it!
Question: What are your booster club's chaperone responsibilities? You can leave a comment by clicking here.