In recent posts, we've focused on the secrets of profitable fundraising. Fundraising is essential for all extracurricular activities, and it is a booster club's top priority. Thriving booster clubs know that it takes more than just a small group of students and parents participating in fundraisers. It takes everyone pulling together toward a common goal to achieve, and exceed, an extracurricular's funding needs.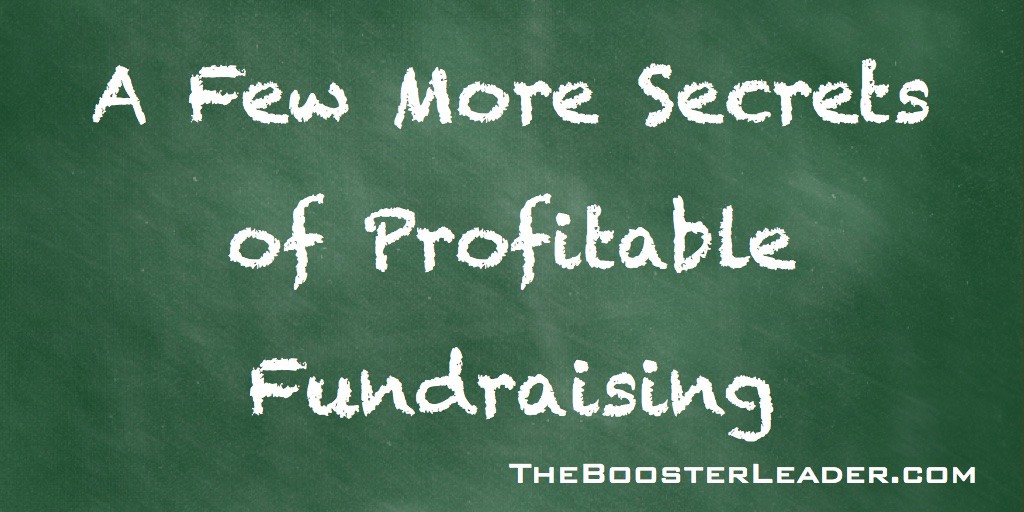 Today we'll conclude our fundraising series with three additional tips to realize the greatest return from your fundraisers. 
1. Provide the students an incentive. It is possible to award your top sellers without violating the essence of the nonprofit. The best way is to award prizes by a drawing. At the start of the fundraiser, establish tiers of participation. As students achieve sales within the tiers, enter their names into the drawing for prizes. This will give students an incentive to sell, but will not award any individual student in proportion to funds earned.
2. Push the limits with marketing. Always consider different angles to motivate your students and parents to participate in fundraisers. For example, in a fruit sale, challenge your families to capture the market on fruit, leaving local grocers with fruit spoiling on their shelves. Here's another example. A local grocery store chain sponsors one of the most profitable fundraisers in our area. Families purchase the store's gift cards and use them to purchase food, pharmacy, and fuel products. When families reload money onto their cards, four percent of the reload amount is paid to the participating nonprofit organization.
Here are some creative ways to market this program to your families:
• Create your own multi-level marketing program by encouraging families to enlist their extended family members and friends.
• Develop a plan to keep seniors engaged in the program beyond graduation.
• Reach out to nonparticipating families through personalized email, highlighting how quickly the benefits add up. Similarly, craft a message for current participants sharing simple strategies to produce greater value for them and to deliver higher proceeds to the organization.
3. Know your state laws regarding sales tax for products sold. Although your nonprofit organization is tax-exempt, you may be required to collect and pay state sales tax on the products you sell. Laws vary by state, and some allow a certain number of tax-exempt sales events to be conducted over a defined number of days. Sales tax laws are generally found on your state comptroller's or secretary of state's website. You should seek guidance from your accountant or attorney prior to the start of any fundraiser to determine your sales tax liability.
If you're ready to learn more effective fundraising techniques, check out my book, The Booster Leader: 35 Leadership Essentials for a Thriving Booster Organization. The Booster Leader is available on Amazon in Kindle and paperback formats.
Question: How does your booster club keep students and parents engaged in fundraising activities? You can leave a comment by clicking here.