This weekend, my hometown Blackman High School Band launched a new fundraiser – the Blaze Band March-a-Thon. On Saturday morning, the band brought excitement to two of the school's nearby subdivisions. The drum line laid down the beat with their parade cadence, and the band entertained with the funky sounds of Bruno Mars. Explosive bursts of color were delivered courtesy of the color guard.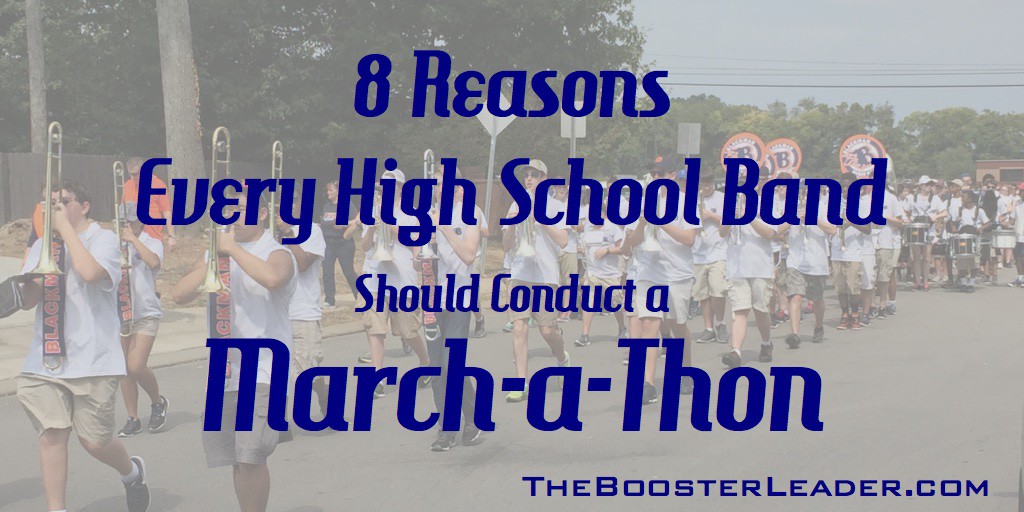 Prior to the event, students solicited pledges from their friends, family, and neighbors. Patrons donated by the mile, or opted for the band to play a song of choice in their front yard. Additionally, parent volunteers accompanied the band, collecting donations along the way.
As you would imagine, this fundraiser was an extraordinary success. Who doesn't love a parade! Here are eight reasons why every high school band should hold a March-a-Thon.
1. To showcase your band's own unique style. In this fundraiser, entertainment is the product. Students spend years developing their talents, and your patrons will benefit from the fruits of their labors. Plus, every band has its own unique style and reputation. You'll create new fans by reaching folks who may have never heard your band. And, you'll inspire the younger kids in the neighborhood to become future band members.
2. It is profitable. Bands that hold March-a-Thons typically generate $10,000 ~ $15,000 in revenue. Of course, proceeds depend on your level of promotion, and "your mileage may vary."
3. You don't have to sell a physical product. Selling a product can be complicated and expensive. There are costs of materials, logistics, and handling. Plus, you may lose potential customers if you sell something they do not want. Costs are minimal with a March-a-Thon, primarily to cover advertising, security, and water and snacks for the students.
4. Students will work together as a team to achieve the overall fundraising goal. This fundraiser cannot be accomplished by only a few participants. It takes all students working together to entertain their community. In the process, they'll develop a sense of pride in helping to do their part to support the program.
5. A March-a-Thon is a fantastic team building opportunity. Students love to participate in social events after school hours, and their parents do too. This activity gives parents the opportunity to get to know each other better while helping the band.
6. You're not competing with neighboring bands. This is a fundraiser that every band in town can hold. Since you march through neighborhoods within your own school zone, every high school band can have their own March-a-Thon.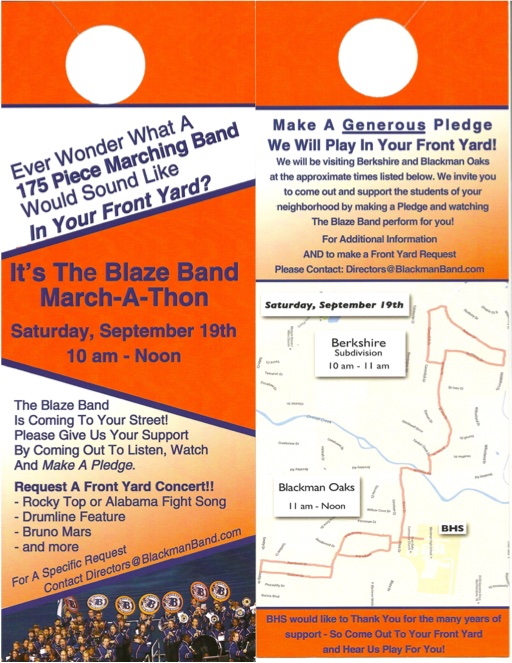 7. A March-a-Thon is a great community service activity. This is a way for your band to bring joy to the community. Patrons can have the band entertain their neighbors, or even play a friendly prank. For example, one neighbor had the band play the University of Tennessee's Rocky Top for the Georgia fans next door.
8. To partner with neighborhood-wide events. Work with your neighborhood homeowners associations to schedule your March-a-Thon along with a subdivision-wide yard sale, picnic, or other event. The goal is to reach as many people as possible, so this is a win-win for the band and the neighborhood event. Remember, a rising tide raises all ships.
Now that you're ready to sponsor your own March-a-Thon, here are a few helpful tips:
Capitalize on one of your greatest assets – your students' contact lists. Have your students reach out by phone or text to the people on their contact lists when soliciting donations.
Schedule a hydration break. Mid-way through your March-a-Thon, take a break for water, snacks, and rest. Your students will be refreshed and ready to continue entertaining the community afterwards.
Play a number or two at the school (or other central location) before and/or after the March-a-Thon. Some community members may want to participate, but live outside of your parade route. Give them the opportunity to come out and enjoy the fun, but most of all, donate!
The Booster Leader
If you're ready to take on a leadership role in your child's booster club but you're not exactly sure what you're getting yourself into, help is here! My book, The Booster Leader, 35 Leadership Essentials for a Thriving Booster Organization, is the resource you need to guide you along the way. The Booster Leader consists of…
Thirty-five proven leadership essentials that are quick and easy to implement
Eighteen inspirational stories that bring the leadership essentials to life
A twenty-nine point checklist to help you identify risks that may jeopardize your organization if not properly addressed (and the answers to help you resolve every issue!)
Now is the time to start leading your own thriving booster organization. In The Booster Leader, I show you exactly how to do it!
Question: What fundraiser has been especially successful for your booster organization? You can leave a comment by clicking here.