Last week, we examined the ten primary responsibilities of a booster club chaperone. Our focus was primarily on the chaperone's role, and how to lead a school group with confidence.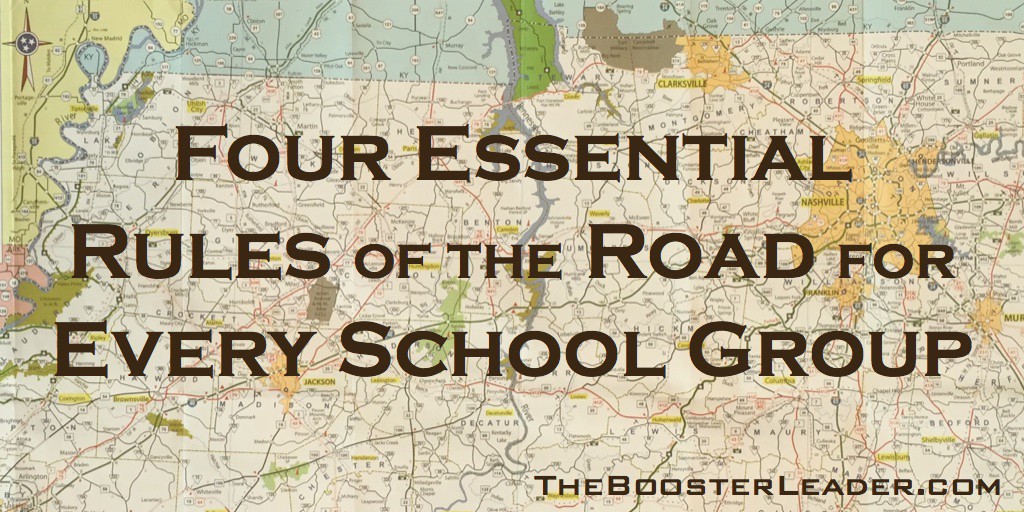 Today, let's broaden our scope and discuss the four essential rules of the road for every school group. These rules will help you to maintain safety and order while traveling.
1. All school rules apply while away. Although your trip may be sponsored by your booster organization, you are still under your school system's jurisdiction. There is generally only one rule that will not apply – the cell phone rule. When traveling, cell phones are a great tool to help chaperones keep up with students. They also provide parents a direct line of communication to their children.
2. Instructors carry out student discipline. Chaperones should notify an instructor whenever discipline is needed. It is okay, though, for chaperones to verbally remind students of the rules. There are times when students get carried away in the moment and need a gentle reminder, and that is an appropriate task for chaperones.
3. Student groups are defined as three or more people. When visiting theme parks and other attractions with secure boundaries, students are allowed to venture out in groups of three or more. There should never be a group of two or less. If a student becomes separated from his group, he must find another group or chaperone to hang out with until he can reunite with his original group.
4. Students remain with chaperones in crowded and open areas. When traveling in cities or other crowded areas, students are to remain with their chaperones. This is a time for chaperones to be especially attentive and make sure that no one wanders off or lingers around and is left behind.
Your students will create lifelong memories while away on school trips. When you are well prepared to chaperone, you will ensure those memories are positive and fond.
The Booster Leader
As a leader in your child's booster club, you need a resource to guide you along the way. My book, The Booster Leader, 35 Leadership Essentials for a Thriving Booster Organization, is just that resource. The Booster Leader consists of…
Thirty-five proven leadership essentials that are quick and easy to implement
Eighteen inspirational stories that bring the leadership essentials to life
A twenty-nine point checklist to help you identify risks that may jeopardize your organization if not properly addressed (and the answers to help you resolve every issue!)
A bonus section, Travel & Chaperone – all the info you need to sponsor, schedule, and chaperone a fun-filled trip that your students will cherish for a lifetime.
Now is the time to start leading your own thriving booster organization. In The Booster Leader, I show you exactly how to do it!
Question: What rules do you maintain while on the road? You can leave a comment by clicking here.