Thriving booster clubs know the key to success is to start each new school year strong. A well planned and executed annual kick-off meeting is just what you need to motivate students and win over their parents.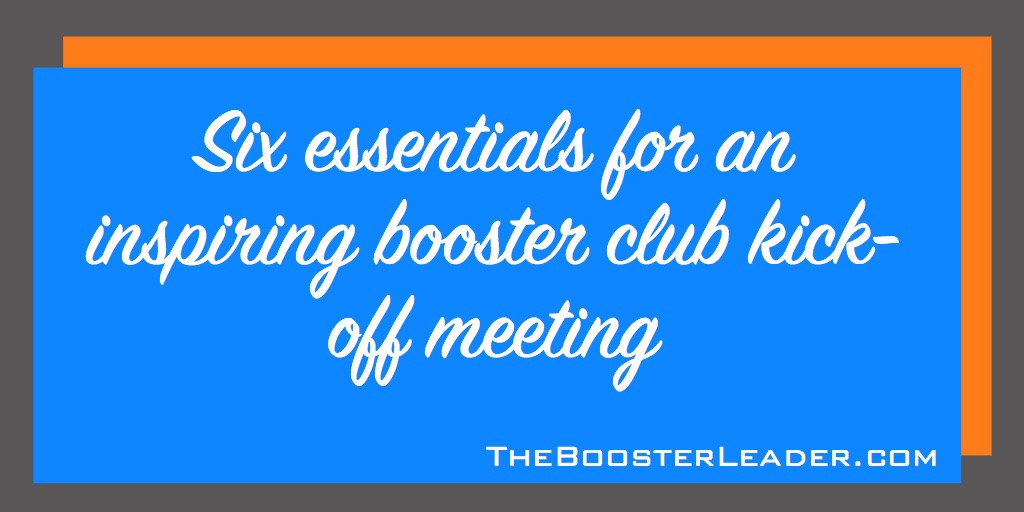 As the current school year draws to a close, schedule an annual kick-off meeting for all new and returning students and their families. Establish the meeting as mandatory, and require every participating student to be represented. There are not many occasions when all of your parents are together at once, so take advantage of this opportunity to set the tone and create enthusiasm for the new year.
Here are six essentials for an inspiring annual kick-off meeting.
1. A clear and compelling message. Many extracurricular activities compete for your students' time. You must clearly present your program's value proposition – how your extracurricular benefits the students. When you can show parents the value in your program, they'll be more likely to support the program with their volunteer and financial support.
The annual kick-off meeting is the perfect opportunity to share the program's budget and where the funding comes from. Most parents do not realize that the majority of an extracurricular's funding is generated by its booster club.
 2. Student testimonies. Incoming students and their parents may be apprehensive about stepping into a high school extracurricular program. Two or three enthusiastic students sharing their personal experiences will reassure the newcomers as they transition into the program.
3. All committee chairs appointed and in place. Recruit and assign chairs for each committee well in advance of the kick-off meeting. This will give them time to develop their committee's annual plan and be ready to recruit parent volunteers.
4. A committee recruiting fair. A best practice is to set up booths for the committee chairs to sign-up volunteers. Encourage committee chairs to share their personal experiences with incoming parents and begin the process of team building with their new volunteers.
5. A call to action. Clearly communicate due dates for requested student payments, and share expectations for parents to volunteer and participate in fundraising activities.
6. An open house. Welcome students and parents to tour the facilities, and give them the opportunity to speak with student leaders. It's the personal touch that will win over students and parents.
When planning your annual kick-off meeting, be prepared to stay late. Have your seasoned parents ready to speak with every student and parent who may have a question. Again, this is one of the few opportunities you'll have to reach all of your parents at once.
The Booster Leader
Now that you've brought new volunteers into your booster organization, you'll need a resource to guide them along the way. My book, The Booster Leader, 35 Leadership Essentials for a Thriving Booster Organization, is just that resource. The Booster Leader consists of…
Thirty-five proven leadership essentials that are quick and easy to implement
Eighteen inspirational stories that bring the leadership essentials to life
A twenty-nine point checklist to help you identify risks that may jeopardize your organization if not properly addressed (and the answers to help you resolve every issue!)
Now is the time to start leading your own thriving booster organization. In The Booster Leader, I show you exactly how to do it!
Question: What does your booster club do to engage students and parents at the beginning of a new year? You can leave a comment by clicking here.