Nearly every booster club leader will tell you their club's greatest priorities are fundraising and recruiting volunteer labor – and they're right. Booster clubs cannot function without financial support and volunteer leadership.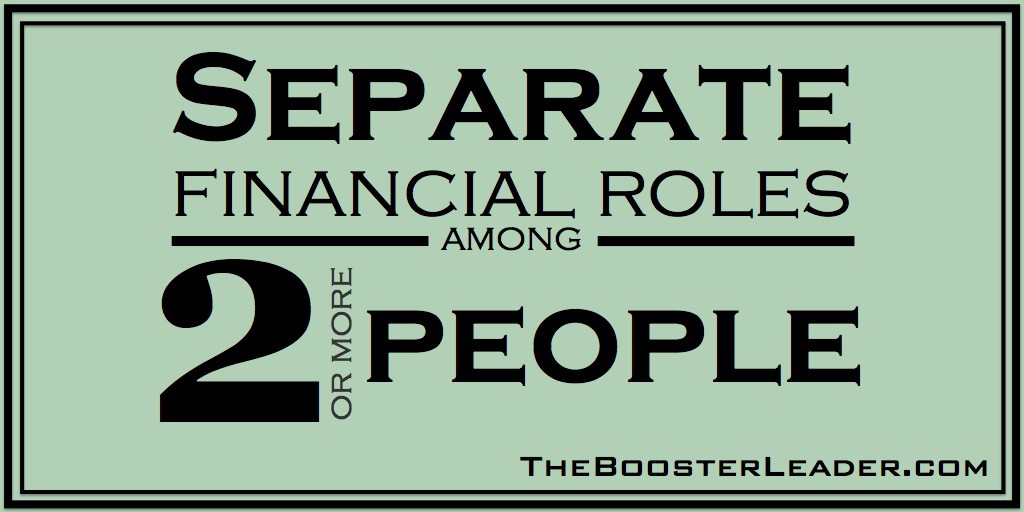 Although these are a booster club's most urgent needs, there is another, silent risk that threatens every club – embezzlement by a volunteer.
Just this week, a former treasurer was sentenced to five years of probation, 120 days in jail, and restitution of $74,400 for embezzling from the high school band booster club she served.
Additionally this week, a former volunteer was ordered to serve 18 months in prison for embezzling more than $10,300 from two different high school booster clubs, and for stealing over $60,000 in public assistance benefits.
Can a booster club screen out potential embezzlers?
Now that we've identified the risk of embezzlement, can we screen out potential embezzlers? That's a great thought, but it's often difficult to identify potential thieves before placing them in positions of leadership. I've shown why in my prior post, 4 Common Conditions Leading to Booster Club Embezzlement.
Can a booster club insulate itself from embezzlement?
The good news is that booster clubs CAN insulate themselves from embezzlement! The solution is very simple – separate financial roles and reporting among two or more people. In the auditing world, this is called separation of duties.
Transparency is the key to a booster club's financial integrity. A booster club that delegates financial control to one person puts itself at a high risk for embezzlement. Unfortunately, for many people, the temptation to help themselves to booster club funds is too great to resist.
In my post, 5 Proven Ways to Insulate Your Booster Club from Embezzlement, I share the fundamental steps in separating an organization's financial duties.
What else can a booster club do to promote financial integrity?
Booster clubs have several additional opportunities to protect themselves from embezzlement, like not accepting cash. A booster club may also purchase fidelity bond insurance, which is an insurance product that protects the organization from fraudulent and dishonest acts of its volunteers.
The Booster Leader
In my book, The Booster Leader: 35 Leadership Essentials for a Thriving Booster Organization, I share many more ideas to promote financial integrity in your club. The Booster Leader consists of…
Thirty-five proven leadership essentials that are quick and easy to implement
Eighteen inspirational stories that bring the leadership essentials to life
A twenty-nine point checklist to help you identify risks that may jeopardize your organization if not properly addressed (and the answers to help you resolve every issue!)
Now is the time to start leading your own thriving booster organization. In The Booster Leader, I show you exactly how to do it!
Question: What does your booster club do to promote financial integrity? You can leave a comment by clicking here.