Spring is here, the time when many booster clubs take their students on an annual trip. When it comes to travel, a booster club's role is to provide a safe, affordable, and fun experience for the students. By now, you've already scheduled your trip and registered your travelers, so it's time to prepare for travel.
There are three key assignments when preparing to travel: assigning rooms, assigning chaperones, and assigning buses. Let's take a look at each activity in detail:
1. Assigning rooms. Travel helps students build lasting friendships and create lifelong memories. A best practice from my experience is to allow students to choose their own roommates. You may simply post a sign-up sheet formatted in blocks, where each block represents a room. Divide each block into four sections for students to write in their names. Here's an example: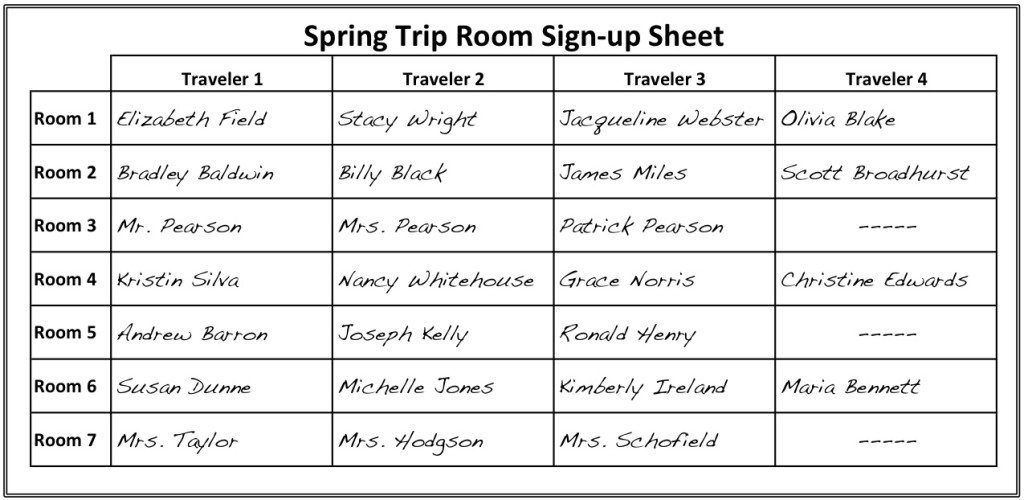 Room assignment requires some oversight by the Trip Committee to be sure that trip costs are accurately charged. For example, if only three students sign up for a room, and they have registered for quad pricing (four students per room), they will either have to take in a fourth roommate or increase their payment to the triple rate.
2. Assigning chaperones. Whenever you can, assign students to chaperones they already know and respect. I realize this is not always possible, and that's okay. A lot of great new relationships are developed through travel. I once chaperoned a group of freshman boys, and after that trip they requested me to be their chaperone for all their remaining trips.
Before making assignments, determine if parents want to chaperone their own children. Often, children prefer someone other than their own parent to be their chaperone.
When setting the student to chaperone ratio, the best case is four students (one room) per chaperone. You may have to assign more than four, but don't exceed eight students (two rooms) per chaperone.
3. Assigning buses. This process requires diligence on the front end, but is well worth it once you're on the road. Your first consideration is to have chaperones and their assigned students on the same bus. Since chaperones hold and dispense all student medications, students need ready access to their chaperones – and medications. It is also good for the chaperones to have a general awareness of what is going on with their students. There's a good chance that several students' cell phone batteries will run down, and their parents are likely to call the chaperones when they cannot get through to their children.
The easiest way to match chaperones and students is to assign buses by full rooms of students. There are still a few things to consider, though. First, coed friend groups will want to travel together. Next, some students may end up with roommates who aren't close friends, and they may ask to travel with friends on another bus. If you have open seats on your buses – and the tolerance to revise your list a few times – you can accommodate most requests. You may be tempted to arbitrarily assign students to quickly finalize your list. Please remember that this is a special event for the students, and many earn their own money for the trip. Be compassionate and understanding in handling their special requests.
I once made bus assignments for a trip with 110 travelers, including students, chaperones, and instructors. Our tour buses had 56 seats, so two buses gave me 112 seats to work with – quite a challenge! After allowing a seat for our tour coordinator, one bus was completely full and the other had only one open seat. As you would imagine, this required a little creativity. After several revisions, I had met everyone's requests and grouped all chaperones with their students. Our buses were packed full, but we all had an amazing trip.
In follow-up, diligence in preparing to travel will ensure an enjoyable travel experience. Remember to be compassionate when assigning rooms, chaperones, and buses. Students eagerly anticipate the trip and they will create lifelong memories while away.
The Booster Leader
As a leader in your child's booster club, you need a resource to guide you along the way. My book, The Booster Leader, 35 Leadership Essentials for a Thriving Booster Organization, is just that resource. The Booster Leader consists of…
Thirty-five proven leadership essentials that are quick and easy to implement
Eighteen inspirational stories that bring the leadership essentials to life
A twenty-nine point checklist to help you identify risks that may jeopardize your organization if not properly addressed (and the answers to help you resolve every issue!)
A bonus section, Travel & Chaperone – all the info you need to sponsor, schedule, and chaperone a fun-filled trip that your students will cherish for a lifetime.
Now is the time to start leading your own thriving booster organization. In The Booster Leader, I show you exactly how to do it!
Question: Where are you going for your spring trip? You can leave a comment by clicking here.