Elvis Presley was undoubtedly one of the greatest entertainers of our time. His most devoted fans know just how generous he was throughout his lifetime. What we may not realize, though, is the significance of his generosity to a booster club. Here are three lessons we can learn from Elvis' generosity.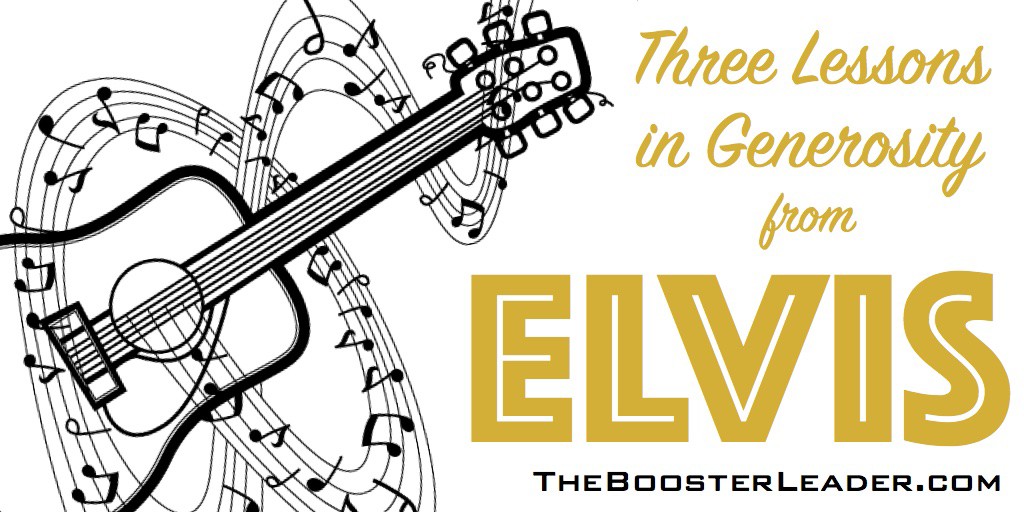 1. Elvis was generous toward people who could never repay him. Elvis Presley lived the greatest rags to riches story of the twentieth century. But even after becoming the biggest star of his era, he never forgot his humble upbringing. There are many stories of his random acts of generosity toward people who were not as fortunate.
As one story goes, Elvis and his entourage made an after hours visit to the local Cadillac dealer to buy a new car. Elvis had picked out his new Cadillac, and the salesman had parked it out front. From the showroom, Elvis saw a housekeeper waiting for the bus across the street. She was on her way home after her daily shift. Elvis noticed her admiring the new Cadillac, and asked one of the guys to walk her over to the dealership. Standing beside the shiny new car he had just picked out for himself, he handed her the keys and wished her well.
When we are generous and help our children's booster clubs meet their financial goals, we'll never be repaid. However, this is our opportunity to help a group of students who will receive tremendous benefit from the programs we support. Our hope is that someday, when they're parents themselves, they'll repay our generosity by supporting their own children's programs.
2. When Elvis was called upon, he served. Toward the end of 1957, Elvis' career had skyrocketed to unprecedented heights. His singing career was red hot, and he was making a name for himself as a prominent actor.
However, Uncle Sam had a different plan – Elvis was drafted into the U.S. Army. Rather than negotiating his way out of the draft, or making special arrangements in a military entertainment unit, Elvis enlisted as a regular soldier. Elvis was willing to serve his country alongside the other young men of his generation.
When your child's booster club calls, step up and fill the need. Better yet, seek out an unmet need and volunteer. Perhaps the greatest need of every booster club is dependable, volunteer labor. When you volunteer, the extracurricular program you make possible will impact the lives of many.
3. Elvis was generous toward his family. Elvis and his mother, Gladys, had an incredibly strong relationship. Once he hit it big, Elvis provided for his parents' every need. His grandmother, Minnie Mae Presley, lived in his home, Graceland. And his uncle Vester worked there on the grounds, guarding the front gate.
You too can strengthen the bond with your children. When you volunteer in you child's booster club, you'll create a lifetime of memories that you both will cherish. But the time is now – the teenage years pass all too quickly.
These three lessons we learn from the life of Elvis Presley are key in operating a thriving booster club. A booster club's two most important needs are financial support and volunteer labor. When you support your child's booster club, you'll create a lifetime of memories and strengthen your bond with your child.
The Booster Leader
If you are interested in supporting your child's booster club, you'll need a resource to guide you along the way. My book, The Booster Leader, 35 Leadership Essentials for a Thriving Booster Organization, is just that resource. The Booster Leader consists of…
Thirty-five proven leadership essentials that are quick and easy to implement
Eighteen inspirational stories that bring the leadership essentials to life
A twenty-nine point checklist to help you identify risks that may jeopardize your organization if not properly addressed (and the answers to help you resolve every issue!)
Now is the time to start leading your own thriving booster organization. In The Booster Leader, I show you exactly how to do it!
Question: How does your parents'  generosity meet your booster club's needs? You can leave a comment by clicking here.