Recently, I shared Five Essentials to Create Your Booster Club's Midterm Plan.  These five proven steps help a leader develop a vision for the organization's future.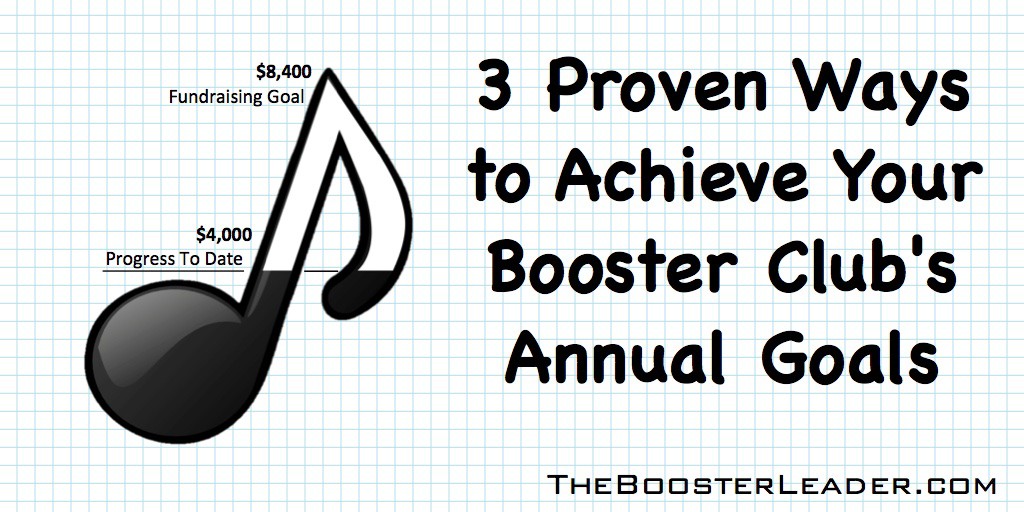 Once you've developed a vision for the future, it is time to refine that vision into actionable goals. Dave Ramsey says that, "Goals are visions and dreams with work clothes on."⁠1 Well-defined goals give the booster club leader a platform and a call to action to rally the troops.
Here are three best practices when converting your vision into goals for your organization:
1. Align your goals with your organization's mission. Just because an idea surfaces through the brainstorming process doesn't mean that it is in the students' best interest. Before you embark upon a multi-year capital campaign, be sure that the initiative is aligned with your organization's mission – to enhance the students' learning experience – rather than an adult leader's pet project. By aligning your goals with your organization's mission, you will be sure to hit the right target.
2. Select only one or two goals. It is very difficult for an organization to meet its day-to-day needs and achieve several longer-range goals. I recommend setting only one or two. The authors of The 4 Disciplines of Execution share these insightful findings from years studying high performing teams:⁠2
• Teams that focus on two or three goals beyond their day-to-day activities often accomplish them.
• Teams that set four to ten goals, however, only tend to achieve one or two.
• Teams that set eleven or more goals lose all focus and are unable to accomplish any of their goals.
3. Set SMART goals. Well-defined goals are the goals that get achieved. Here's a breakdown of the SMART acronym:
• Specific. Clearly state the goal. For example, "purchase an 18' x 7' tandem axle enclosed trailer" is better than "purchase a trailer."
• Measurable. Establish a unit of measurement and a target value in order to track your progress toward achieving the goal. For example, "raise $20,000 to purchase a new wrestling mat" is better than "raise money to purchase a new wrestling mat."
• Achievable. Goals for the midterm should stretch the organization, but not to the point of discouraging your volunteers. Goals should be within the organization's influence and control to achieve.
• Realistic. Just because a school in a large city with generous alumni donors installs artificial turf on their football field doesn't mean that a small school in a rural area will be able to do the same.
• Time bound. Goals without time limits fall prey to procrastination. A goal with a deadline is a booster organization's call to action.
Now that you've developed your vision for the future and set actionable goals, it's time to go to work. Communicate your vision, rally your members, measure your progress, and achieve your goals!
The Booster Leader
If you are ready to make your vision a reality for your booster club, you'll need a resource to guide you along the way. My book, The Booster Leader, 35 Leadership Essentials for a Thriving Booster Organization, is just that resource. The Booster Leader consists of…
Thirty-five proven leadership essentials that are quick and easy to implement
Eighteen inspirational stories that bring the leadership essentials to life
A twenty-nine point checklist to help you identify risks that may jeopardize your organization if not properly addressed (and the answers to help you resolve every issue!)
Now is the time to start leading your own thriving booster organization. In The Booster Leader, I show you exactly how to do it!
Question: What are your best practices to achieve your booster club's goals? You can leave a comment by clicking here.
1 Dave Ramsey, EntreLeadership (New York: Howard Books, 2011), eBook edition.
2 Chris McChesney, Sean Covey, Jim Huling, The 4 Disciplines of Execution (New York: Free Press, 2012), 24-25.