One of the greatest challenges you will face leading your booster club is motivating volunteers. Unlike the workplace, you cannot exert position power over your people. And let's face it, no one wants to be bossed around. Even in the workplace, that's just not effective. You must find other ways to influence your volunteers.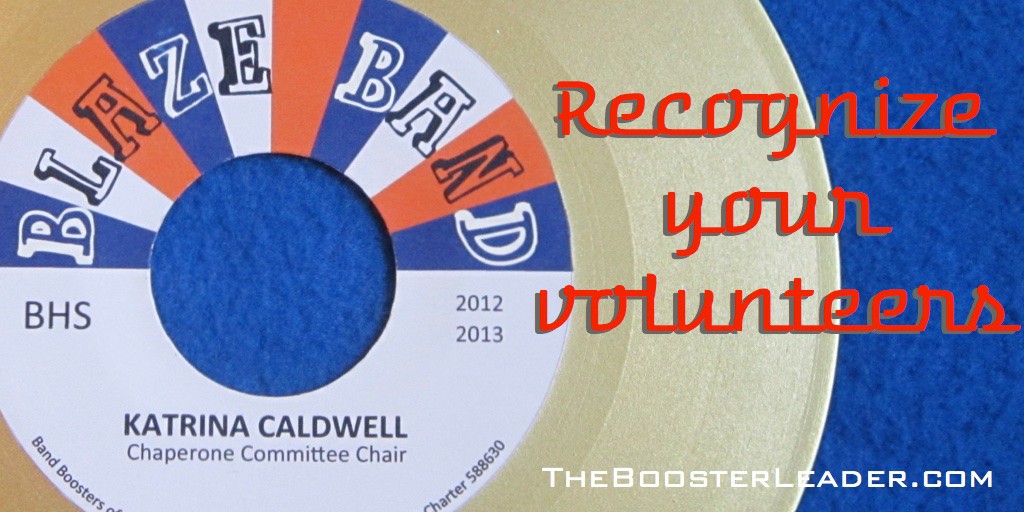 I have found that recognition and gratitude are two of the greatest motivators for volunteers. Likewise, the absence of recognition and gratitude is one of the greatest demotivators in an organization.
Booster club officers and committee chairs must strive to create a culture of recognition and gratitude. Here are three types of recognition that are essential to a thriving booster organization:
1. Individual recognition. A handshake and heartfelt "thank you" will go a long way. Most people don't expect anything in return for their volunteer labor – they just want to be appreciated. Individual recognition should be timely, generally during or immediately after the event they served.
2. Written recognition. Written recognition should go along with, but not take the place of, individual recognition. Written recognition may be in the form of a handwritten note, or it may be delivered electronically by email, text, or voice mail. At the close of a major event, always provide written recognition to the volunteers. Written recognition means the most when it comes from the booster president or instructor.
3. Public recognition. Every organization has volunteers who continually give of their time. Take the initiative to recognize them publicly during a booster meeting, year-end banquet, or other appropriate forum.
It's always best when your recognition fits within the context of your booster club.
When I was president of the Blaze Band Boosters, I honored my fellow officers and committee chairs with gold records! After all, they performed like rock stars, and rock stars have gold records!
I bought several 45s at my local vintage record shop and spray painted them gold. I designed the center labels myself (retro!), and printed them on adhesive label stock (for laser jet printers) at my local office supply store.
Remember, when it comes to recognition, it's not necessarily WHAT you do, it's THAT you do it.
The Booster Leader
As a booster club leader, you need a resource to guide you along the way. My book, The Booster Leader, 35 Leadership Essentials for a Thriving Booster Organization, is just that resource. The Booster Leader consists of…
Thirty-five proven leadership essentials that are quick and easy to implement
Eighteen inspirational stories that bring the leadership essentials to life
A twenty-nine point checklist to help you identify risks that may jeopardize your organization if not properly addressed (and the answers to help you resolve every issue!)
Now is the time to start leading your own thriving booster organization. In The Booster Leader, I show you exactly how to do it!
Question: How do you recognize your volunteers? You can leave a comment by clicking here.