Over the past few weeks, we've discussed fundraising and how to maximize your booster club's fundraising revenue. Today, let's continue by looking at three specific actions that can increase every booster club's fundraising performance.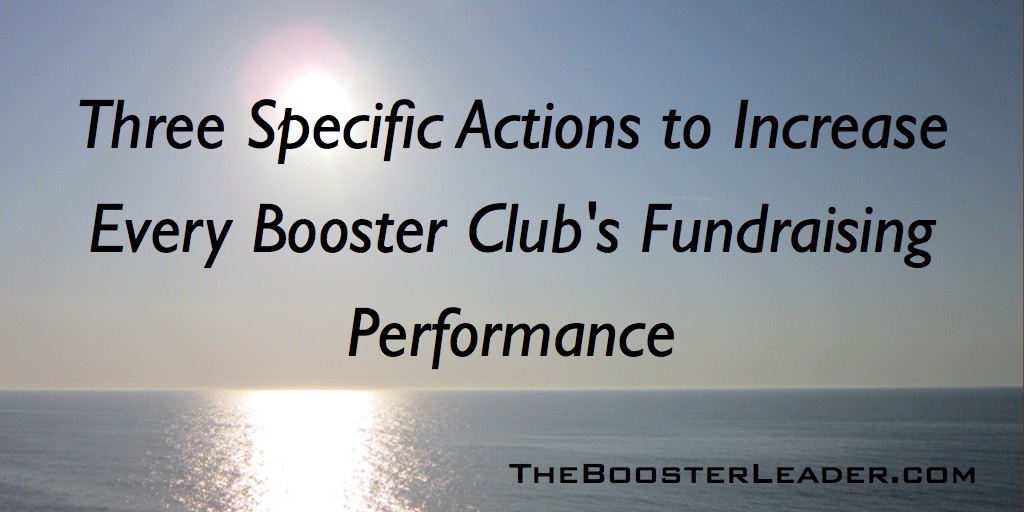 1. Capitalize on "signature" fundraisers. A "signature" fundraiser is synonymous with your program, offers proven value to your customers, and generates repeat customers. Here's an example. My home town high school's football boosters sell a pocket discount card with special offers from local restaurants and businesses. The discounts provide significant value, which generally allow the card to pay for itself within the first month of use. The card is valid for one year, which drives repeat customers. The fundraiser also helps build the brand of the organization, as customers receive value each time they use their football boosters discount card.
You may also be able to capitalize on a fundraiser that has become popular within your extracurricular activity or sport. For example, high school band programs in the south have sponsored fruit sales for more than thirty years. Customers have become familiar with these sales, and for many it is a tradition to purchase band fruit for the Thanksgiving and Christmas holidays.
2. Communicate well. Effective communication is the key to your fundraising success. Send a simple and clear message to your students and parents so they will know what's expected of them. It takes a while before everyone is "on the same page," so you'll need to repeat the same message several times. Remember, repeating your message is the only  sure way for people to hear and act on it.
When communicating with customers, be brief and to the point. Clearly describe the product you are selling and let them know when it will be delivered. Include a clear call to action that will persuade the potential customer to make a purchase.
3. Frequently report your progress. When people see progress being made toward a goal, they are more likely to get involved and help achieve the goal. If you do not report your progress, people will lose their motivation to participate and assume that others will meet the goal.
Remember, the fundraising field is crowded, with many school groups and nonprofits competing for your customer's charitable dollar. However, when you are diligent in keeping students and parents involved, and provide value to your customer, you'll certainly achieve your fundraising goals.
If you're ready to learn more effective fundraising techniques, check out my book, The Booster Leader: 35 Leadership Essentials for a Thriving Booster Organization. The Booster Leader is available on Amazon in Kindle and paperback formats.
Question: How does your booster club engage its students and parents in fundraising activities? You can leave a comment by clicking here.